How to do home automation?
In this post, we shall discuss how to do home automation. The hallmark of technology is innovation. People invent and tinker on things to innovate, to make things more useful, and to make life easier.
While others argue that it was technology which made life a lot more complex, it is also through technology that we are able to respond to the ever-changing needs of the times. As a career person, you must have hoped to make things more systematic and streamlined in order to save time and energy.
Since working people are already so busy attending to things at work, and at school for others, home is treated as a safe haven wherein one could relax and recharge.
When you are at home, you would not want to experience anything that would spoil your mood or make your blood boil, you feel that you are not supposed to face any serious problems.
However, the truth is that there are problems at home too. One of the ways to streamline things is to resort to automation and converting our house into a smart home is found to be a great investment.
There is no one definition of a smart home. Generally, automation requires the use of smart devices that automate and control household functions. This is usually done through mobile applications or voice commands.
How do you set up smart home automation?
Converting your house into a smart home may sound like a daunting task. Others say that while it sounds promising and amazing in theory, the actual process may be overwhelming for others.
Nevertheless, just like with any task, something becomes more tolerable when it is broken down into smaller tasks. You can start with determining the specific home functions that you want to automate first, then expand from there.
Have a list of the easier ones, such as the lights or the doors, so that you will not lose motivation. Remember, people do not just lose motivation when the task is boring, people lose motivation when the task is overwhelming.
According to studies, the usual function that is first automated is the home security. An automated security system is usually controlled via Wi-Fi network, which allows the user to control things through a smartphone and a mobile application.
Once you are able to automate most of the functions at your home, the next step would be to get a hub which would allow you to integrate all the devices with one another.
What are the advantages of automating your home?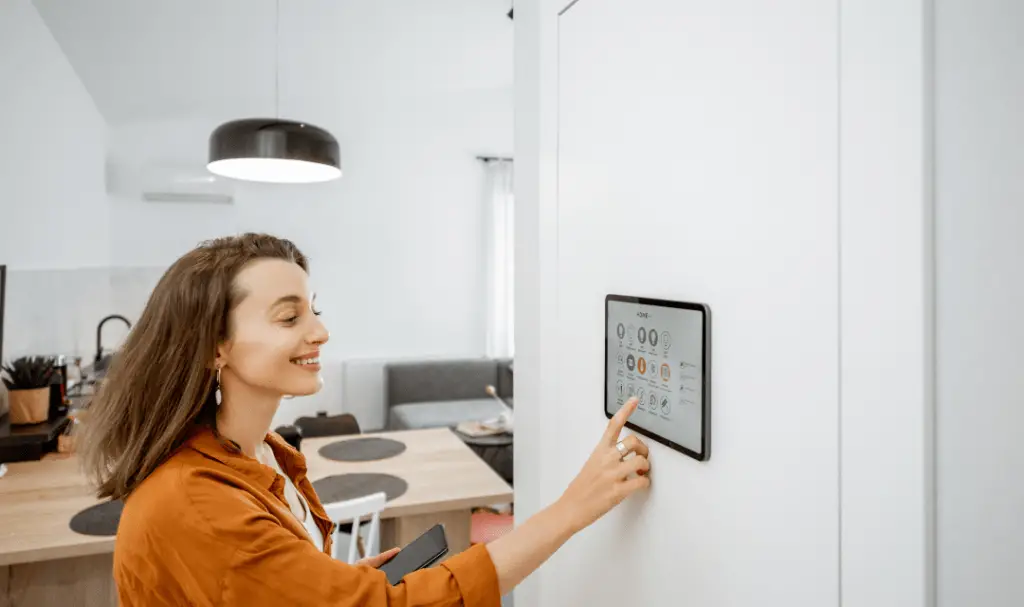 Automating one's home is not only smart, it is also practical. While others do not really appreciate home automation, and some considers it as a way to show off, there are real benefits to this. Below are some of the greatest advantages of home automation:
Savings: Most smart devices are energy efficient, which means that they help in cutting utility costs. Aside from using less energy, some devices even allow you to monitor certain consumption such as water usage, which allows you to save on water bills.
Comfort: It was already explained earlier that our home is considered to be a safe haven by many. Home automation allows us to play music or to record shows through smart technology. There are certain devices that also provide adaptive temperature, lighting, or sound, all of which contribute to having an inviting environment.
Control: This one is easy, with a centralized and automated home, you now have a better control over the functions at your home which you used to disregard.
Safety: One of the most sought-out features of home automation is home security. With technologies such as motion sensors and automated lighting, burglars would have a harder time sneaking into your home at night.
Convenience: Home automation allows us to control the functions at our home remotely which leads to more convenience and better user experience.
Is there any disadvantages of home automation?
Nothing comes without costs. Just like any other innovation, converting one's house into a smart home has its downs. The following are the usual disadvantages:
Initial Cost: Given the great advantages that automation brings, the technology and the installation are also expensive.
Maintenance: On top of the installation costs, the maintenance is likewise costly. This includes costs on the needed repairs and replacements. Moreover, there is labor costs that come with the professionals that tend to these repairs. Since automation is technical, it is wise to call for the help of experts.
Data transmission speed: Automation requires multiple systems to be inter- connected which means that huge amount of data is being transferred from one system to another, leading to congestion. Since internet is a basic requirement, an effective automation system requires a strong and steady connection. Otherwise, it would be impossible to access and control the system.
Ring Connection: When information is connected in a ring form, there may be delays that will also depend on the number of points that are connected to the network, which affects its overall reliability.
What are home automation ideas that is feasible to DIY?
With a lot of smart home devices considered as plug-and-play, it may seem tempting to take the work by yourself. Yet, before you think about doing so, though, be completely honest with yourself.
Are you practically inclined and quite comfortable with the skills needed to install the technology involved to take this by yourself, or is that a misplaced optimism?
You will need proficiency and basic understanding with both electric and information technology, so it will be more than a case of simple home automation DIY (Do It Yourself).
If you still think that this is the right thing to do, then instead of intimidating you, home automation DIY will excite you. There has never been a wider choice of smart home devices you can install and do by yourself.
Generally, you have three broad choices when it comes to installing home automation:
DIY installation for a self-monitoring system
DIY installation for a professional monitoring system
Professional installation for a professional monitoring system
How can you incorporate google automation?
A smart home may be incorporated with Google through an application called the Google Home.
Google Home provides the chance to take direct control of a broad range of smart home appliance using voice and Google Assistant, the onboard digital butler. Google Home is a smart speaker coming in 3 guises:
Google Home: If you are looking for a powerful and capable speaker, Google Home is not really the best option. However, if you want a simple, cost-effective device enabling you to make full use of Google Assistant to automate your connected home using voice commands, then it is worth it.
Google Home Mini: Finished with a tactile fabric and resembling a small ice hockey puck, this comes in three colors so it will slot neatly in with your home. Sound is underwhelming, but Google Home Mini is the perfect conduit for controlling other devices and appliance in your smart home.
Google Home Max: Google describes the sound issuing from Google Home Max as "room-filling", and this claim is not far-fetched. You will get a potent, undistorted bass and you can pair Max models for more powerful audio. Six onboard microphones with far-field recognition allow Google Assistant to pick up your commands from far away, and you will be able to use your virtual butler to take charge of a suite of other smart home gear.
Traditional Home vs. Automated Home, which is better?
The difference between a traditional home and an automated home is obvious. With a traditional home, you will have to manually turn on or reach out for literally everything.
On the other hand, you can make everything work with only one press of a button with an automated home. As already discussed above, converting the house into a smart home comes with both pros and cons.
There is no single answer to this question. The answer really depends on the home owner's income, preference, and priorities. It will also depend on the location of the house, whether the place is generally safe.
For a person who does not have much budget, automating the house does not seem very important. Even if it is considered important, the person might not make it a priority. On the other hand, for people who do not have issues with funding, having a smart home is the way to go.
Not only is automation convenient, it is also practical. As mentioned earlier, there are huge upfront costs that come with automation. Nevertheless, if there is enough budget to cover for the upfront costs, the cost-saving feature of automation is a great benefit to consider.
Also, preference is an important factor. Needless to say, there are wealthy families who still value traditional values and style, one of which is a traditional home.
Conclusion
Automation is a great way to make your life easier, safer, and better. With the right hardware and the right software it's possible to set up an automated system that will: open and close your garage door, unlock your doors when you come in range, or turn on the lights any time you enter a room.
The decision to convert one's house into a smart home is a big step. With all its advantages and disadvantages, you have to think carefully and consider thoroughly all your options. If you are still uncertain, it is wise to remember that automation is a sign of innovation and innovation is a good thing.
The process of automating your home can be a quite daunting and complex task if you're doing this for the first time. However, it's generally a much easier process than you might expect. Hence, all said, this guide will hopefully help you come out of this with more confidence and a better understanding of what to do.